rooms
Luxury Chalet
Only a short 40-minute drive from Perth CBD you will find our 8 stunning luxury chalets hidden away within the beautiful surrounds of the Perth Hills bushland.
Arrive to find chilled bubbly on ice*, settle into your chalet and then spend the afternoon relaxing on your private deck, or why not run a spa bath overlooking the bush views?
*Bottle of bubbly only applies to 3+ night stays – all other guests recieve a glass of bubbly on arrival.
LUXURY
We use the highest of quality linen. All chalets contain his & hers double basins and showers.
PRIVACY
Chalets overlook the stunning bush land, privacy is secured with entry from the rear of the chalet.
Luxury Chalet rates from $440 per night
Breathe In
The moment you enter Amaroo Retreat & Spa, release your cares and totally immerse yourself in the tranquillity of your new home. Spend a few days with us and you will be nurtured, pampered and transformed.
Escape
A quick night away shouldn't feel like a quick night away…
Instead, feel a million miles away and find out what luxury awaits you!
Smell the crisp country air, enjoy the beautiful bush setting and indulge in pure indulgence with your special someone.
Just imagine it; a relaxing weekend in the hills, in a luxurious bush setting with delicious food, wine, and an indulgent day spa, all on tap.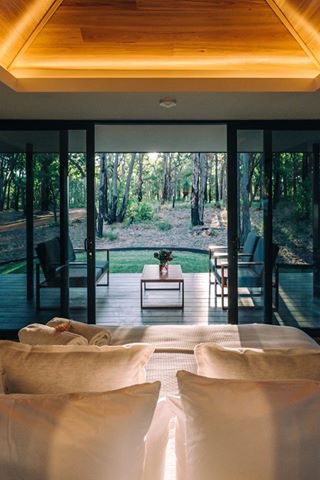 Breathe Out
Start your day with an early morning nature walk, listen to the birds sing, and enjoy breakfast in our onsite restaurant The Lounge. Fill your day with bespoke spa treatments, or simply spend the day reading a good book, with a glass of wine, in your private outdoor spa bath.
If you require a wheelchair accessible chalet, please let our friendly staff know prior to confirming your room. Our day spa and restaurant are also fully accessible so you can enjoy all of our facilities during your stay. 
Free WiFi
Complimentary Wi-Fi up to 1GB per day is provided for all guests.
Bedroom Comforts
We only use the highest of quality linen and towels, slippers and robes provided.
Free Parking
Parking is provided for all guests of the retreat.
Spa Baths
Each chalet comes with its own rain water fed private spa bath which sits at a comfortable 32 degrees.
Twin Amenities
All chalets contain a his & hers double basins and showers.
Privacy
All overlook the stunning bush land, privacy is secured as entry is only from the rear of the chalet.

Great place for a quick escape from the city Fabulous little place, tucked away in the Perth Hills. Great for a special occasion. Restaurant food was excellent quality; staff friendly. Room facilities clean and well appointed; spa overlooking bushland is quite special. Worth a visit. Next time we'll check out the day spa - I left it too late to book this time.

Elopement Wedding Amaroo is the most amazing, most relaxing place anyone can find in Perth. This visit was the 2nd visit and even more special than the first...this was an elopement wedding. Firstly a huge thank you to all the staff at Amaroo. Many many thanks to the manager for her truly amazing work to help us and work with us to get the most perfect wedding we could have asked for. She was with us every step of the way and went above and beyond so we can't thank her enough for her hard work. Thank you to owners for allowing us to take photos with their Rolls Royce, it was such a highlight and so kind to allow for this opportunity. Thank you to the 4 spa therapists who's professionalism and skills made for a magnificently relaxing experiences. Having the Bar and Restaurant on-site enables easy access to delicious and high quality food and drinks. Finally thanks for all the other staff who we interacted with or who were involved during the wedding, thank you.

Silver Wedding Anniversary Stumbled across this beauty through internet advertising and it must have been fate. It is perfect private hideaway to relax and catch up with my husband without interruption. The room was deliciously luxurious, private and cosy and furnished with everything we needed. Spa on the balcony was wonderful especially looking onto natural bushland with with wild flowers in bloom. The quality of food & wine at the restaurant was to a high standard without the expensive price tag of a city restaurant, now that was a surprise. The staff especially Lisa in the restaurant were fabulous and they exceeded expectation for our short stay. I would highly recommend Amaroo Retreat for that special getaway.

JimMacNaughton
18/09/2021
Wedding Anniversary stay. First time at Amaroo after some friends recommend it. The location is superb, just out of Perth but close enough to everything you need. The spa is great, very good massage in there over the weekend, defiantly worth going just for that. The restaurant is good, the menu selection is not huge but the food is very good. My only area for improvement would be the bed and the spa bath in the rooms, far too small, designed for and by tiny people.

midweek break Excellent value for money in luxury retreat with restaurant. Peaceful and secluded, the sun shone and we just relaxes. Good base for touring the Perth Hills from Toodyay to Northam to York to Mundaring.
Michelle Bennett
04/08/2021
Perfect anniversary escape We stayed at this beautiful oasis to celebrate our 25th wedding anniversary and it was perfect! Peaceful, private, clean and with everything you need to escape from everyday life for a while! Sitting in the hot tub on a cold winters evening was an added bonus and the inclusive brekky was delicious.

Romantic Birthday Getaway to Disconnect and Reconnect. Under an hour from the CBD and you enter the Gates of Amaroo where you instantly disconnect from the outside world and reconnect with each other. Amazing Rooms and Amazing Bar/Restaurant. The Oysters with red wine vinaigrette, shallots & lime are an absolute must!

Fantastic Stay - Outstanding Service and Staff !! What a wonderful, relaxing location and overnight stay to celebrate my wife's Birthday. We started with a spa treatment (massage and facial) which was fantastic and extremely relaxing. Thank you Claudia and Elizabeth. The Chalet was beautifully prepared, spotlessly clean and had all the amenities we could have wanted - plus a few. The private spa on the verandah was a lovely place to spend a cool winters afternoon. Drinks and dinner at The Lounge Restaurant were lovely and the terrific friendly service from Kellie and Jess just made it really special. We were also fortunate to meet and have a chat with Paul and Emma - what fantastic Hosts. HBD Paul 🙂 Amaroo Retreat and Spa is a great place to stay for a special occasion - or any occasion to be honest !! The staff are outstanding and everything about the place is really impressive ! The only negative for us.....unfortunately, we only stayed for one night, not longer !! But we'll look forward to coming back again really soon.
Check in is open from 2.00pm to 5.00pm. Early check in and late check out can be accommodated subject to availability.
Restaurant
The Lounge
The Lounge at Amaroo is a semi-fine dining restaurant & bar with great service, mouth watering meals and delicious cocktails!
Spa
The Spa
Escape from your fast-paced lifestyle and retreat to our luxurious Day Spa. Our spa treatments help you to find balance and re-energise.
Rates
From $440 per night
AMAROO REtReaT & SPA
1200 Alison Street
MOUNT HELENA  WA  6082